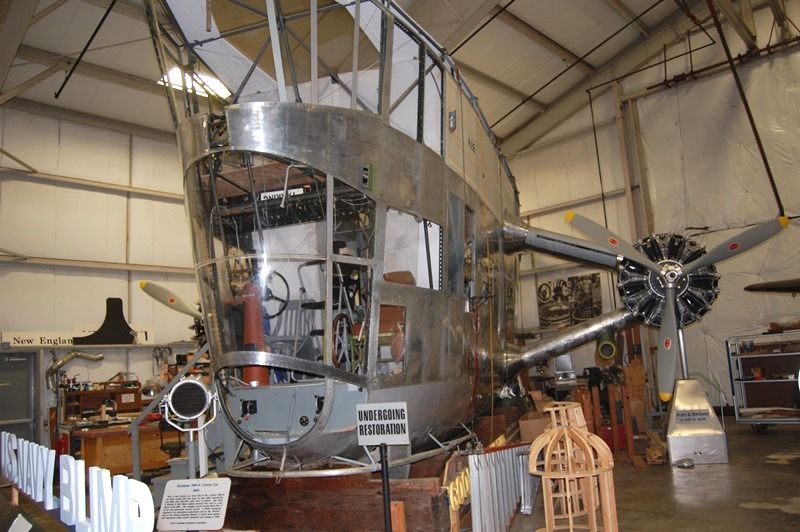 A Blimp's Tale – good enough for Chaucer!
By: shortfinals
Tags: 'Puritan', .5" Browning machine gun, aerial advertising, airship, Atlantic Ocean, Aviation, Bay of Biscay, Caribbean, coastal patrol, convoy escort, depth charges, Eastern Seaboard, French Morocco, Gibraltar, Goodyear Aerospace Corporation, Goodyear Corporation, Gulf of Mexico, helium, K-28, K-Class, Kreigsmarine, Lakehurst, Lieutenant Nelson Grills, Lighter than Air Patrol Squadron 21, museum, Museums, New England, New England Air Museum, New Jersey, Pacific Ocean, Pratt & Whitney R-1340 Wasp engine, RAF, Second World War, Type VIIC U-Boat, U-134, U-Boat, USA, Vickers Wellington GR. Mk VIII, warbird, WW2, ZNP-K Non-rigid airship, ZP-14

Category: Aviation, military, Museums, New England, Second World War, ships, United States, warbird
All museums have 'corners'. Odd spaces that you simply hate to see 'go to waste'. Sometimes – as a curator – you accept an object which doesn't fit in with your collecting policy. That can happen because your Acquistions/De-acquistions Committee (and all museums should have one) present you with an excellent case; sometimes a couple of the Trustees exert undue influence – difficult to resist if they are big donors; and SOMETIMES, just sometimes, you cannot resist the urge to just 'fill that corner' with something that fits!
Here is something that is rare and worthy of filling any corner. You are looking at the 'control car' of an airship, and, even more importantly, of a class of airship that took a very active part in World War Two. This is a control car from US Navy's ZNP-K Non-rigid airship, K-28, from Goodyear. Many of you, when you think 'airship', think of sporting events and TV coverage, but the Goodyear Corporation of Akron, Ohio, played a big part of the success of the Allies in WW2. It wasn't just the millions of truck, car, and aircraft tires, or the other rubber products that went into almost every fighting vehicle on every front, but it was their expertise in producing non-rigid airships that eased the load when it came to coastal naval patrol.
The ZNP-K class was 252 feet long, 63 wide (at the widest point) and contained 425,000 cubic feet of the non-inflammable gas, helium. Powered by two of the extremely reliable Pratt & Whitney R-1340 Wasp engine (as used in the North American T-6 Texan), this airship had a top speed of 78 mph. It could carry four 350 lb Mark 47 depth charges, and carried a Browning M2 .5″ machinegun in the front of the control car. Range was over 2,200 miles, and the airships had an endurance of more than 36 hours, which must have been tiring for the crew of seven. By the middle of the war, the class was equipped with air-to-surface radar.
The first of the class flew on the 6th December 1938, and 135 were eventually ordered. They were used for coastal patrol, search and rescue, mine sweeping and anti-submarine convoy escort. Their 'persistence', and their ability to 'hover' into wind over a spot in the ocean made them very valuable as a tool for the rest of the convoy escorts to use. 'Blimps' were used all up and down the Eastern Seaboard, the east coast of South America, the Caribbean, Gulf of Mexico, the Pacific, and for a time in 1943, over the Mediterranean from a base in French Morocco.
These airships took part in a number of actions against enemy submarines, but one was especially notable. On July 18th 1943, K-74 of USN ZP-21 (Lighter than Air, Patrol Squadron 21) out of Richmond, Florida, under command of Lieutenant Nelson Grills, was on patrol off the Florida coast. It was a night-time patrol, and Lt Grills knew that there was a tanker and another ship in the vicinity. Suddenly a radar target came up and it resolved itself into the shape of a U-boat – it was a Type VIIC, U-134, and she was stalking the ships. Afraid that they would be sunk before other help could arrive, Grills dived the blimp at the U-boat. Two of the four depth charges were dropped close to the U-boat, and the .5″ Browning was used in an attempt to knock out the submarine's 20mm cannon. The Z-74 suffered damage, and crash-landed in the sea. The U-boat was nowhere to be seen. The next morning, the destroyer USS Dahlgren arrived on the scene and rescued the crew. Unfortunately, Salvatore Stressel, Aviation Machinist Mate 2nd Class was lost, it is thought, to a shark attack. Lt. Grills received the DFC, and the rest of the crew Navy Commendation Medals. This was the only blimp lost to enemy action and Stressel was the only crew member killed in action during WW2.
What of the U-boat? Apparently, it was damaged enough so that it could not dive, and had to run for home on the surface. A Royal Air Force Vickers Wellington GR. Mk VIII aircraft, out of the RAF base on Gibraltar, was patrolling the Bay of Biscay, off Vigo, Spain, when she found U-134 on HER radar. She promptly sank the U-boat.
The airship which you can see part of, K-28, was delivered to ZP-14 at Lakehurst, new Jersey in December, 1942. ZP-14 was part of a lighter-than-air force which eventually totally 15 squadrons. At the end of the war, the blimps ceased to have the importance they had once had, and the force was wound down, with the last retiring in March, 1959. K-28 was one of a handful of ex-Navy blimps which were bought back from the Navy by the Goodyear Aerospace Corporation. Goodyear bought 6 K-class (including K-28) and 7 L-class blimps, to enable it to restart its usual peacetime operations. K-28 was the prototype for the tests involving the new programmable light system for display advertising. This was very heavy so approximately 90% of its wartime equipment was stripped out. It also acquired a new name, 'Puritan', and was used extensively over the Eastern and Midwestern states. It was eventually retired and put into store in 1948.
Eventually, Goodyear Aerospace Corporation donated the control car from K-28 to the New England Air Museum, and in 1993, a dedicated team began the work of restoration. Some parts have been donated, others have had to be made from photographs, and more than 14,000 hours of work has been put in, so far, on this project. When completed it with be the ONLY K-class control car in wartime condition.
The story of blimps is a strange and wonderful one, and few people know of their wartime exploits.
2 comments on "A Blimp's Tale – good enough for Chaucer!"
Yes, blimps were important in WW II and thank you for covering this aspect.

LikeLike

I was remiss to mention that I've been to the former naval facility in what was Richmond, Florida. Naval Air Station (NAS) Richmond is now in Miami and the grounds are divided between ZooMiami and the Gold Coast Railroad Museum. Ross, you would love the RR museum since you get to walk around so many of them! NAS Richmond had one of the immense wooden hangars but was destroyed in a fire with a loss of many aircraft stuffed into it during a 1944 hurricane — ironic and tragic. A small brick side building remains as does one of the four concrete structures used to support the hangar doors. There is a small side room exhibit as part of the NAS Richmond Museum and is free to see — it is in the Gold Coast RR Museum building. I have not done a post on it yet but have planned to get photos in July and post about it.

LikeLike